An article from 1983 about National Milk Bars
---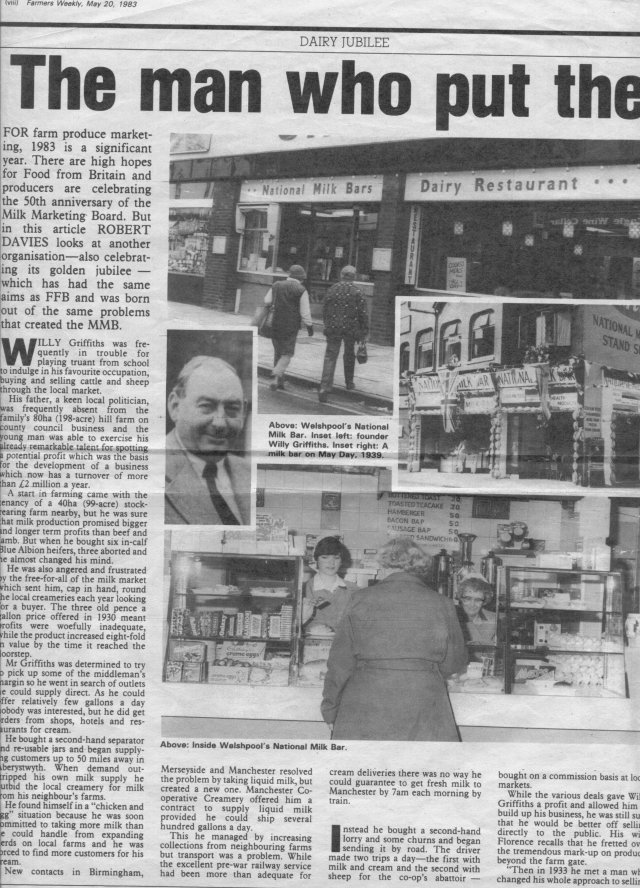 ---
Farmers Weekly, May 20 1983
Dairy Jubilee
The man who put the milk into milk bars
For farm produce marketing, 1983 is a significant year. There are high hopes for Food from Britain and producers are celebrating the 50th anniversary of the Milk Marketing Board. But in this article ROBERT DAVIES looks at another organisation – also celebrating its golden jubilee – which has had the same aims as FFB and was born out of the same problems that created the MMB
Willy Griffiths was frequently in trouble for playing truant from school to indulge in his favourite occupation, buying and selling cattle and sheep through the local market.
His father, a keen local politician, was frequently absent from the family's 80ha (198-acre) hill farm on county council business and the young man was able to exercise his already remarkable talent for spotting a potential profit which was the basis for the development of a business which now has a turnover of more than £2 million a year.
A start in farming came with the tenancy of a 40 ha (99-acre) stock rearing farm nearby, but he was sure that milk production promised bigger and longer term profits than beef and lamb. But when he bought six in-calf Blue Albion heifers, three aborted and he almost changed his mind.
He was also angered and frustrated by the free-for-all of the milk market which sent him, cap in hand, round the local creameries each year looking for a buyer. The three old pence a gallon price offered in 1930 meant profits were woefully inadequate, whil the product increased eight-fold in value by the time it reached the doorstep.
Mr Griffiths was determined to try to pick up some of the middleman's margin so he went in search of outlets he could supply direct. As he could offer relatively few gallons a day nobody was interested, but he did get orders from shops, hotels and restaurants for cream.
He bought a second-hand separator and re0usable jars and began supplying customers up to 50 miles away in Aberystwyth. When demand outstripped his own milk supply he outbid the local creamery for milk from his neighbour's farms
He found himself in a "chicken and egg" situation because he was soon committed to taking more milk than he could handle from expanding herds on local farms and he was forced to find more customers for his cream.
New contacts in Birmingham, Merseyside and Manchester resolved the problem by taking liquid milk, but created a new one. Manchester Cooperative Creamery offered him a contract to supply liquid milk provided he could ship several hundred gallons a day.
This he managed by increasing collections from neighbouring farms but transport was a problem. While the excellent pre-war railway service had been more than adequate for cream deliveries there was no way he could guarantee to get fresh milk to Manchester by 7am each morning by train.
Instead he bought a second-hand lorry and some churns and began sending it by road. The driver made two trips a day – the first with milk and cream and the second with sheep for the co-op's abattoir – bought on a commission basis at local markets.
While the various deals gave Willy Griffiths a profit and allowed him to build up his business, he was still sure that he would be better off selling directly to the public. His wife Florence recalls that he fretted over the tremendous mark-up on produce beyond the farm gate.
"Then in 1933 he met a man who changed his whole approach to selling […]
---
[picture captions]
Above: Welshpool's National Milk Bar. Inset left: founder Willy Griffiths. Inset right: A milk bar on May Day, 1939
[picture]
Above: Inside Welshpool's National Milk Bar.
---
Now, There's Posh